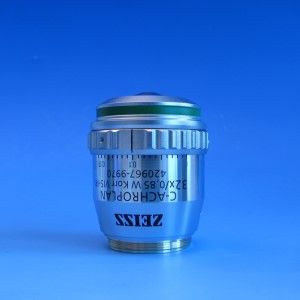 Objective "C-Achroplan" 32x/0.85 W Corr M27
Objective "C-Achroplan" 32x/0.85 W Corr M27
Item no.: 420967-9970-000
Description
Objective C-Achroplan 32x/0.85 W Corr M27 VIS-IR, (FWD=1.1mm at CG=0.17mm) (CG=0-0.17mm) incl. Immer...
Full Description
Magnification
32x
Numerical Aperture
0.85
Free Working Distance [mm]
1.1
Coverglass Thickness [mm]
0 - 0.17
Thread Type
M27x0.75
Immersion
Water
Field of View [mm]
23
Parfocal Length [mm]
45.06
Long Distance
Correction Ring
Iris
Optical System
Infinity Color Corrected System (ICS)
Flatness
Color Correction
Biomedical Applications
Fluorescence
- Multichannel
- Ultraviolet Transmission
- Infra Red Transmission
BrightField
Differential Interference Contrast
High Contrast DIC
Polarization-Optical DIC
Phase Contrast
VAREL Contrast
Hoffman Modulation Contrast
Polarization Contrast
Materials (Reflected Light) Applications
BrightField
BrightField/DarkField
Reflected Light DIC
High Contrast DIC
DIC with circular polarized light
Total Interference Contrast
Polarization Contrast
Options
Definite Focus.2
Confocal Microscopy
- Ultra Violet
- VIS (visible light)
- NLO-IR / 2 Photon
Total Internal Reflection Fluorescence
ApoTome
Microdissection
Objective heater 33/38 S1 (D)

Item no.:

411860-9067-000

Objective ring ACR for objective sleeve cylindrical short

Item no.:

424508-0000-000

Box of lens cleaning paper

Item no.:

462975-0000-000

Immersion medium "Immersol" W 2010, oiler 20 ml

Item no.:

444969-0000-000
Note:
All measures in [mm]

mech. Arbeitsabstand = mechanical working distance
Deckglas = cover glass
Objektebene = object plane
Objektfeld = object field
Ausleuchtung = illumination
Probenzugänglichkeit = specimen accessibility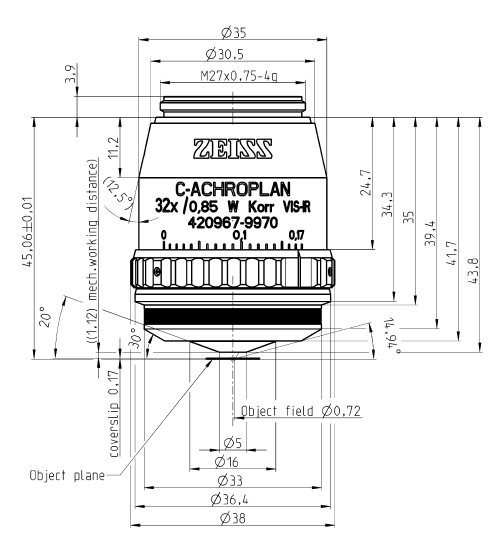 Note:
Please note that due to production tolerances, the given values are typical only and not guaranteed.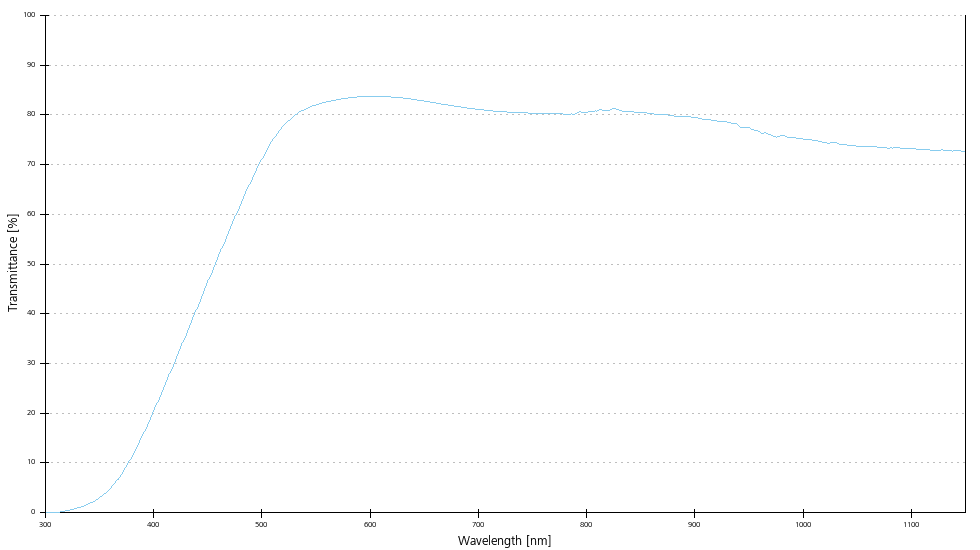 C-Achroplan
These are objectives for transmitted-light routine microscopy and epi-fluorescence microscopy with visible-light excitation. Special Achroplan® W (water) objectives are provided for applications in physiology.
Thanks to their excellent image flatness across visual field diameters of 23 mm, Achroplan® objectives are ideal for photomicrography in routine microscopy.
Objective C-Achroplan 32x/0.85 W Corr M27 VIS-IR, (FWD=1.1mm at CG=0.17mm) (CG=0-0.17mm) incl. Immersol W, bottle 20 ml