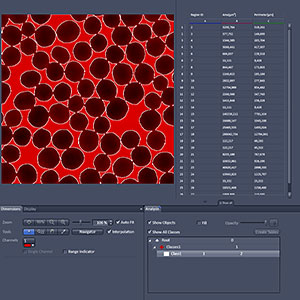 ZEN Module Image Analysis
Item no.: 410136-1032-110 (individual configuration)
Description
ZEN Module Image Analysis Assistant for creation of an automatic measurement program. Segmentation, ...
Full description
ZEN Module Image Analysis
Item Number: 410136-1032-110
(individual configuration)
Reset configuration
Please note that if an item is removed from or added to a preconfigured kit the full functionality can not be guaranteed!
There is no parts list for this product.
ZEN Module Image Analysis Assistant for creation of an automatic measurement program. Segmentation, object separation and masks. Geometrical and intensity-measurements. Data display in table, list style and scatterplot/histogram. Hierarchical measurements. Zone-of influence (ZOI) measurements*. Batch processing functions to generate cumulated data lists or images with embedded measurement data*. (*not ZEN core)