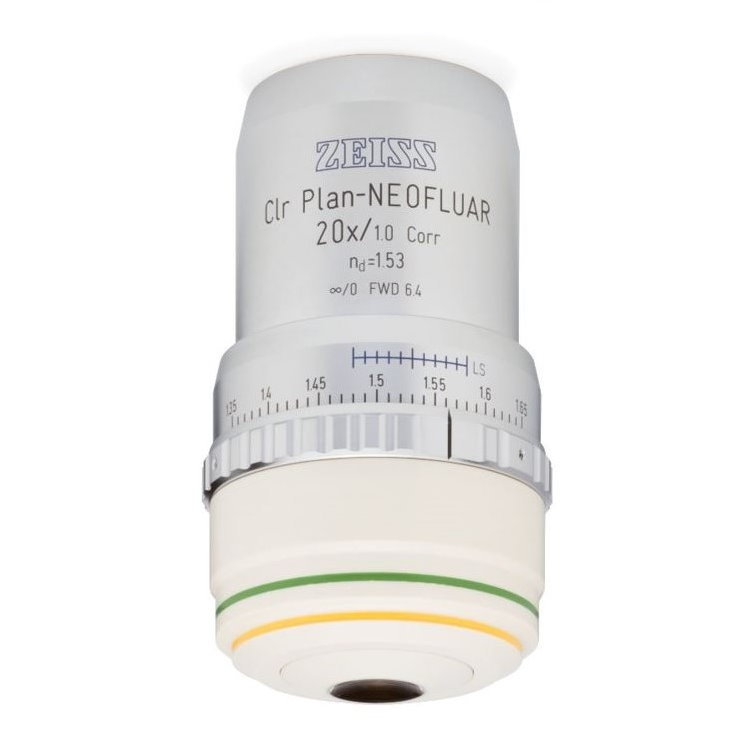 Objective Clr Plan-Neofluar 20x/1.0 Corr nd=1.53 M32 85mm
Objective Clr Plan-Neofluar 20x/1.0 Corr nd=1.53 M32 85mm
Item no.: 421459-9870-000
Description
Objective Clr Plan-Neofluar 20x/1.0 Corr nd=1.53 M32 85mm Parfocal length 85mm, overall length 105mm. (FWD=6.4mm) VIS-NIR Correction collar for compensation of spherical aberrations. Suitable for clearing methods with nd=1.53 +/- 0.05, in particular U.Clear, Ce3D, Cubic Cancer
Full Description
Magnification
20x
Numerical Aperture
1.0
Free Working Distance [mm]
6.4
Coverglass Thickness [mm]
0
Thread Type
M32x0.75
Immersion
Clearing
Field of View [mm]
20
Parfocal Length [mm]
85.00
Long Distance
Correction Ring
Iris
Optical System
Infinity Color Corrected System (ICS)
Color Correction
semi-apochromatic
Biomedical Applications
Fluorescence
- Multichannel
- Ultraviolet Transmission
- Infra Red Transmission
BrightField
DIC [Differential Interference Contrast]
High Contrast DIC
PlasDIC
Phase Contrast
VAREL Contrast
Hoffman Modulation Contrast
Polarization Contrast
Materials (Reflected Light) Applications
BrightField
BrightField/DarkField
Reflected Light DIC
High Contrast DIC
DIC with circular polarized light
Total Interference Contrast
Polarization Contrast
Options
Definite Focus.2
Confocal Microscopy
- Ultra Violet
- VIS (visible light)
- NLO-IR / 2 Photon
Total Internal Reflection Fluorescence
Apotome
Microdissection
Note:
All measures in [mm]

mech. Arbeitsabstand = mechanical working distance
Deckglas = cover glass
Objektebene = object plane
Objektfeld = object field
Ausleuchtung = illumination
Probenzugänglichkeit = specimen accessibility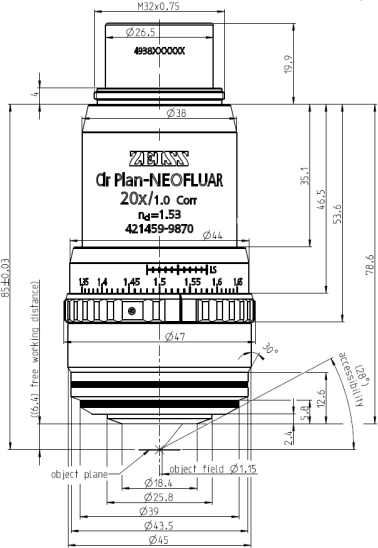 Note:
Please note that due to production tolerances, the given values are typical only and not guaranteed.
Clr Plan-Neofluar/Apochromat
"Clr" is for clearing. We have your cleared samples covered across a broad range of refractive indices from 1.35-1.58 in combination with long working distances up to 6.4 mm and great color correction with the Clr Plan-Apochromat and Clr Plan-Neofluar objectives. These objectives cover different clearing media such as Scale A2, Focus Clear, Clarity, Uclear, Ce3D, Cubic Cancer, etc. The high numerical aperture is sure to deliver brilliant images and unlock new details.
Objective Clr Plan-Neofluar 20x/1.0 Corr nd=1.53 M32 85mm Parfocal length 85mm, overall length 105mm. (FWD=6.4mm) VIS-NIR Correction collar for compensation of spherical aberrations. Suitable for clearing methods with nd=1.53 +/- 0.05, in particular U.Clear, Ce3D, Cubic Cancer